The other day I was chatting with a friend about Seinfeld- it's a great show and he asked me what episode he should watch that night. I spouted off a bunch of favorites but then I remembered exactly what episode he needed to see. The one about the NYC Marathon! Ha it's hilarious.
Who is going to hold this sign out for me come November? So how about we "marathon" shows about the marathon! Here are some funny episodes to get into the running spirit!
So of course #1 is Seinfeld S7E5 – The Hot Tub
Elaine host's a runner who last time slept through his alarm and missed the marathon. So this year she and Jerry go to every precaution to get him to wake up in time! (UH this is my nightmare!)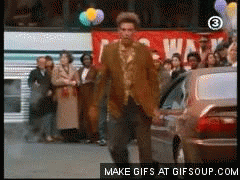 special mention S7E9- The Sponge. It's an iconic episode!  Kramer signs up to participate in a charity Aids walk and Jerry doesn't think he's going to make it.
#2 How I Met Your Mother S2E15 – Lucky Penny
Barney bets the gang that he can run the marathon with no prior training.
#3 Sex and The City S4E6- Baby Talk is Cheap
Miranda joins a running group while training for the NYCM and meets a cute (if gross) guy
special mention S4E7- Time and Punishment: Miranda is so sore from the marathon she cranks her neck and ends up lying naked on the bathroom floor
#4 Friends S6E7 – The One Where Phoebe Runs
Phoebe starts running with Rachel through Central Park and she is embarrassing
#5 Parks & Rec S5E2 – Soda Tax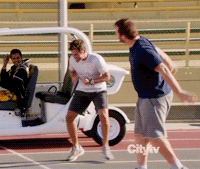 Andy is training for the Police PT test and has to run 2 miles under 25 mins
#6 Veep S2E9- Running
V.P Selina, high on painkillers, runs a 10K with her staff
#7 The Office S4E1- Fun Run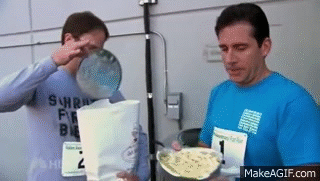 Michael hosts a fun run for rabies after he hits Meredith with his car. So he has to carbo load fettuccine Alfredo immediately before running the 3 miles
Or you know, you could watch a documentary with actual knowledge about the sport. But these shows are funny!