Whoa that month went by quick! I knew when I got into the marathon that even though I had 8 months till the big day, time was going to fly by and I had no time to slack off.
But then I kind of slacked off… It's been an interesting month full of ups and downs and I learned a lot about health and life.
In terms of vacation plans, I already spoke to my aunt and I'm all set to stay with them for the weekend. I have a hotel in the city for just a couple nights. I have my plane ticket and my ticket for an actual BROADWAY SHOW! Guys, I'm beyond excited! I picked Dear Evan Hansen (I tried to justify spending the $$ for Hamilton but… nope I couldn't go it.)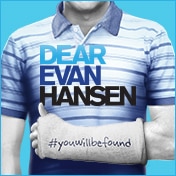 I have all my workouts planned, now it's just a matter of following through with them. And getting my eating back on track. I've been on vacation and even thought I stayed in town, I've had plenty of dinners out and really enjoying my time off. I always forget to take pictures but I did have a truly amazing dinner at Nobou at Teeter House in downtown Phoenix that was so indulgent and so worth it. But I did try and balance out my vacation with some outdoor activities and exercise.
But I'm back in the swing of things at work and back at the comfort of a routine.
I have lots of goals! I've been running but it's been a lot of easy runs and junk miles. I haven't been pushing myself nearly enough and time if ticking away!
> I definitely want to work on my speed and get faster overall
> I want to get back into weights and strength training x2 a week
> I want to cross train x1 a week. Mostly yoga but cycling at least x1 a month
> I want to drop about 15 lbs before the marathon
7 months to go!!! I'm so so so excited for this race and I want to do it proud!